The real money gaming industry analysts have recognised India as one of the most promising markets to watch. India has a population of 1.4 billion, which is expected to overtake that of China in becoming the world's most populous country. Considering this huge upsurge in numbers, the gaming industry in India is witnessing unrelenting growth.
Currently, sports betting and games of chance are prohibited in India, but Rummy, Daily Fantasy Sports (DFS), and poker are permitted for real money gaming as these are considered as games of skill in the majority of India's 28 states. This resulted in a wide number of indigenous skill gaming companies emerging and flourishing in recent years.
Played with 13 cards and involving two to six players, Rummy was already huge in India long before the internet. In 2015, the Supreme Court declared Rummy played for money as a game of skill, which was the impetus in founding of Passion Gaming soon after the ruling. Rummy Passion was launched the following year in 2016.
Passion Gaming has amassed more than five million registered users, of which 10% are real-money players. Currently, there are around 40,000 to 45,000 Monthly active users (MAUs). Passion Gaming is touching new highs of net gaming revenue month on month based on the incremental new users, and there is plenty of runway for growth ahead. Clearly, rummy is extremely popular in India, more than any other card game. The market is large and growing rapidly.
According to a report published in early 2022 by Deloitte and Federation of Indian Fantasy Sports, the fantasy sports industry alone in India is worth INR 34,000 Crore, around £3.7bn, and the industry caters to over 13 Crore (130 Million) registered players.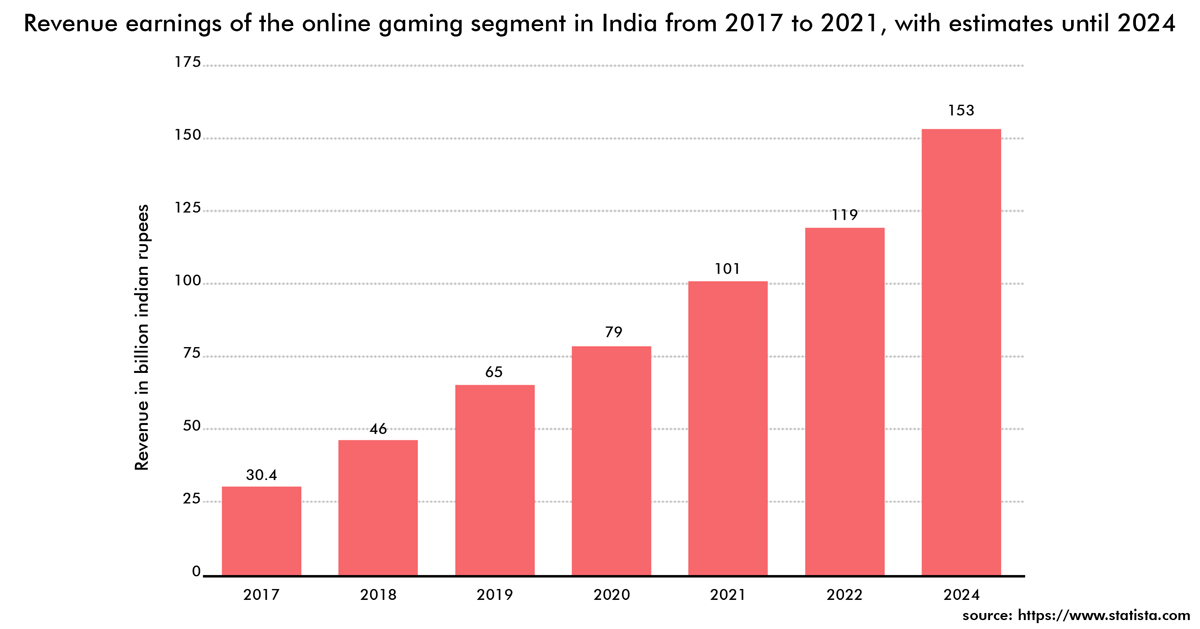 Another Statista's report suggests that revenue of India's online gaming industry has already surpassed 100 billion Indian rupees in 2021 and is estimated to reach over 153 billion rupees by 2024.
A swift penetration and affordability of smartphones, along with cheap mobile data have led to the rapid rise in mobile gaming stats. The growing popularity of transaction-based games such as Online Rummy and fantasy sports are the key contributors in the trajectory of the real money gaming market in India.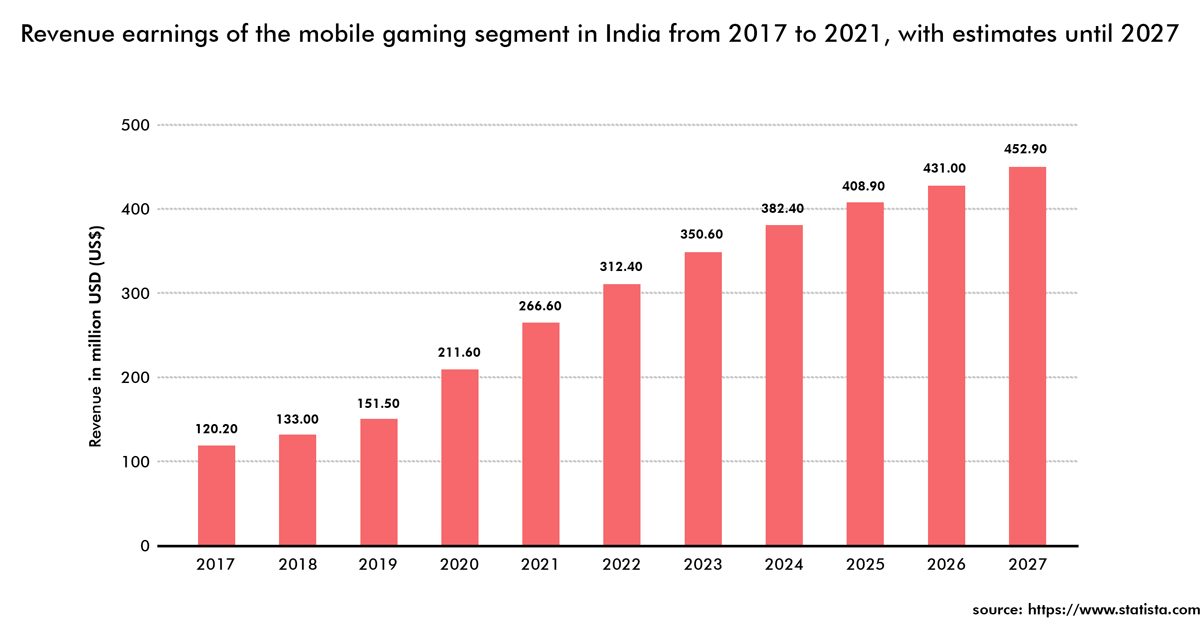 The revenue in the Mobile Games segment is projected to touch US$312.40 Million (26 Billion INR) in 2022. By 2027, the number of users in the Mobile Games segment is expected to reach 239.6 Million with a user penetration rate of 12.8% in 2022 which is further expected to hit 16.3% by 2027.
The Echoing Impact of Google's Pilot Program
In September 2022, Google rolled out a pilot program allowing DFS and Rummy apps from companies incorporated in India access to the Play Store.
Google has put in place this pilot program for local game developers to distribute their daily fantasy sports (DFS) and Rummy apps on Google Play Store in India. This pilot is initially planned to run for a year.
Google only allowed the apps that adhere to its strict compliance framework. Welcoming the move by Google to allow real-money gaming apps in the Play Store, both online rummy and DFS operators endorse Google's stand of allowing apps that adhere to its strict regulatory framework. This will surely improve the accessibility of the game and will also magnify the horizon of the real money gaming landscape in India.
Having a presence in the Play Store not only helps with product visibility and top-of-the-funnel marketing but should also reduce the cost per acquisition. Presence on the Google play store will also allow users to window shop. They will be able to compare and check reviews and ratings of a number of apps before downloading.
Rummy Passion has racked up four million app downloads to date. Owing to all the crucial factors contributing to the growth of Online Rummy and other real money games, Google's pilot test is bound to give a significant boost to these numbers. Google's pilot plan is also an indicator of legitimacy of the sector. It is a validation that Rummy and DFS are skill games.
What the Future Holds for Real Money Gaming in India?
The growth of real money gaming in India hasn't gone unrecognised among traditional gaming operators.
The smartphone penetration in India is around just 54% despite India being the world's second-largest mobile phone market. There is a clear walkway to growth, with Deloitte expecting India to have around one billion smartphone users by 2026 with rolling out of 5G. In fact, 5G-enabled devices are expected to account for 80% of devices sold in 2026.
With the estimated increase in smartphone usage, it is safe to say that the real money gaming market is about to witness even more in the upcoming years, with new users added every day.
Real money gaming industry's future in India has a strong potential and what lies ahead looks quite promising.